The London Salon Trophy
The first time this much coveted International Trophy had ever been awarded for a colour photograph was in 1967. Presented to John Neville Cohen for his creation 'Spirit of Spring' he was also the youngest member ever to have received it.

Reviews & Exhibitions
A small selection, from many reviews and letters received, after over a dozen major one-man exhibitions held in Europe and America.

"regarded as one of Britain's most original photographers." The Times.

"A woman's face was exquisitely metamorphosed with the cup of a yellow tulip - a Femme - Fleur Picasso might have perpetrated had he taken to photography." Arts Revue.

"To Cohen the impossible in colour merely takes a little longer." Photography Year Book.

"I like his sense of angle." Sir William Russell Flint R.A.

"Very marketable as well as interesting and adventurous in themselves with congratulations." Cecil Beaton C.B.E.

"To view your pictures was a reward." T. C. Grover President The Institute of Incorporated Photographers.

"Many congratulations on the two photographs in `Colour Photography' which I think are marvellous." Peter Sellers.

"This really is a remarkable picture. Thank you so much. My best wishes for your forthcoming exhibition for the Edinburgh Festival." Lady Clementine Spencer-Churchill.

"All good wishes for a camera artist of sheer genius." Bob Collins Editor `Masterplots' U.S.A.

"Congratulations on the Exhibition at the Kodak Centre in New York - I know the site and it is certainly one of the busiest points in the world." Geoffrey Crawley Editor The British Journal of Photography.

"Re: Photo Expo at the Coliseum New York. The entire Exposition was a tremendous success and I want to thank you once again for making your print set available. Your photographic work is outstanding." Frank Pallo Co-Ordinator Photo Expo.

"Among those in which mind takes precedence over matter I would select `Galatea in Bronze' and `Spirit of Spring' both by John N. Cohen. The latter, in particular, must be the product of very considerable thought and it is worthy of the highest praise." H. A. Murch Hon. F.R.P.S. Editor Amateur Photographer Magazine.

An Introduction to John's work was written by Sir George F. Pollock Bt., M.A., F.R.P.S., F.R.S.A.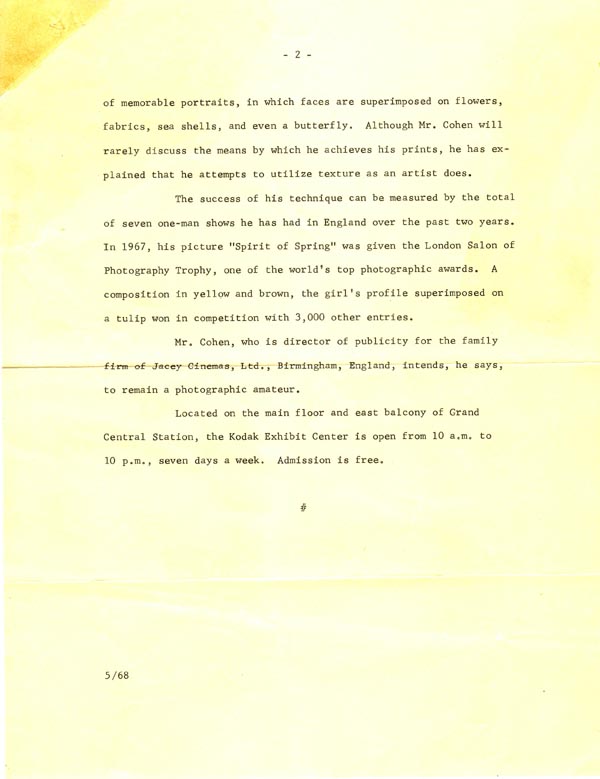 Press Release About John's One Man Show
Kodak Exhibition Center, Grand Central Station, New York

Evidence - Press Cuttings & Letters


Comments on Facebook and Flickr

"I love these, John. Can imagine them large scale in a white room - would look fantastic!" Rachel Glittenberg Facebook

"Hi John, I am so pleased to have come across your page, your work is sensationally sophisticated and so softly intense, you have a unique personal talent for expressing visually moments of being and emotional journeys, sincerest congratulations on your excellent artistic technique, xx you are such a talent John," Monica Martinelli-Richmond Facebook

"Stunning image! Your work is amazing! Your work is extraordinary and very inspirational!" Emellin66 Flickr

"really beautiful and magical. love the composition." galerie-morgenstern Flickr

"This speaks so loud...I admire your work" Neya* Flickr



One-Man Exhibitions

(listed in order of events)

Wall of Colour. Kodak House London.

Jacey Gallery. Marble Arch London.

Belgrade Theatre. Coventry.

Midland Arts Centre. Birmingham.

National Film Theatre. Manchester.

Westcott Art Centre. Dorking.

Surrey University. Surrey.

National Film Theatre. London.

Lonsdale Hands Organisation. Commonwealth House London.

National Film Theatre. London.
(After London The exhibition travelled to all of the other NFT locations).

Kodak Exhibition Gallery. Grand Central Station New York.

Bristol Arts Centre. Bristol.

Graves Gallery. Sheffield.

Edinburgh Festival. Edinburgh.

Photo Expo. Coliseum New York.

Viewfinder Gallery. Marble Arch London.

Thorndike Theatre. Surrey.


Exhibited or Accepted

London Salon. For four consecutive years and awarded principle trophy in 1967.

Royal Photographic Society. A.R.P.S.

Photographic Alliance Inter-Federation Competition. Awarded certificate of merit.

Camberley Salon. Invited to provide an honorary panel for two consecutive years.

Exhibition of Midland Photography. Awarded the Tomkinson Rose Bowl.

Master Photographers Association. L.M.P.A.

Camera Infinity. Lever House New York. Also invited to join their travelling exhibition to a number of cities in USA.

Contemporary Circle. United Photographic Postfolios. An invited member.

1st Festival of Internacional de Arte Marbella 19th - 21st June 2009


International Competitions

Versailles France.

Edinburgh Festival Scotland.

Southampton England.

Cremona Italy.

Midland Salon England.


Last Interviews

Interview in Leap May 2012


Interview in Artpromotive Feb 2012






To the Homepage



Return to the top of this page